57 North is a music hub for North East Scotland,
Our website provides everything from event listings to opportunities and we're also involved in the organising of music industry-focused events, advice and development in the region.
Our sister radio show '57 North Presents' is broadcast on shmuFM every Monday from 8-10pm.
Future shmu music projects will also sit under the 57 North banner.
We currently have a COVID-19 Advice & Resources section for those involved in music on the site, while pre-recorded 57 North Presents shows continue to be brodcast on Mondays.
For the very latest updates from 57 North, keep an eye on our Facebook, Twitter & Instagram accounts.
57 North Presents is a weekly interview-based radio show on shmuFM dedicated to local music from the Aberdeen area.
Presented by Alan Henderson, we're live on shmuFM every Monday from 8-10pm,
The show is also repeated on Fridays at Midnight and available on Listen Again for 7 days.
Interested in appearing on the show? Email info@57north.org
Commercial arm/shmuTRADE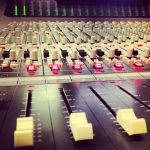 Do you want to record in our state-of-the-art studio? Are you a community choir, school band, poet, playwright or musician? We can offer very competitive rates for recording promotional CDs that your organisation can then sell for fundraising or use to promote your work. We can link everything to shmuFM so you can also find out how you can secure radio play or appearances on shows running on our community radio station. To find out more about rates and services click here.